After yesterday's nice weather, it was warm and humid this morning. At 4AM it was misty with occasional light rain and 71*F down here on the coast. Awful conditions for a marathon. The
computer model
did a fairly good job predicting this warmup, but many of the forecasts didn't. The Gulf waters are still warm enough to cause a pretty rapid warmup with a southeast wind.
The basic weather forecast for this week still hasn't changed much, but the forecast low temperature does still seem to be creeping higher. Another weak frontal boundary is moving across the region today. Skies will clear this evening with cooler overnight lows in the 40s expected. Fair skies and dry conditions will then prevail Friday and much of Saturday with another front bringing slightly cooler air Sunday into the first part of next week.
The contract weather service for the nuke plant
has this forecast for Sunday:
Mostly sunny.
Wind N-NE 10-15 gust 20
Precip No precipitation forecast
Temp
Low: 48ºF High: 65ºF
They've dropped the Southerly winds and gone to pretty strong Northerlies for Sunday.
Marathon Day is on the
NWS forecast:
Saturday Night: Partly cloudy, with a low around 44.
Sunday: Mostly sunny, with a high near 64.
Marathon day is also now in the
hourly prediction.
Conditions still look good on the
8-day model forecast
with temperature starting in the 40s and a lesser north-northeast wind [the graph is in UTC, six hours ahead of Houston].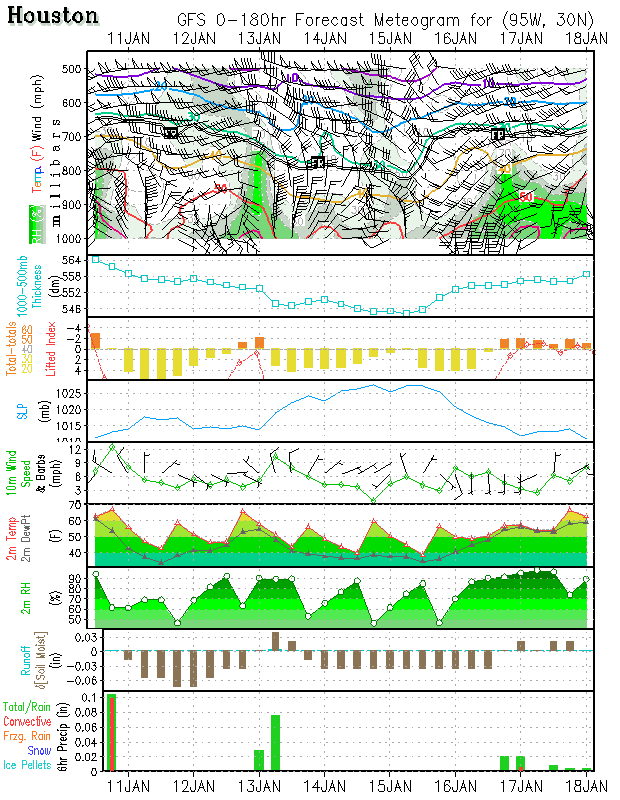 Here's the text version
of the GFS 8-day model forecast
for those who don't like these graphics. Marathon morning is also now on the
text ETA model forecast
Note that 1200 UTC on January 13th is 0600 Central Standard Time, one hour before the marathon starts.
The
Weather Channel
tends to weight their long term predictions with seasonal averages. For
Saturday night
they show:
Overnight Low 44°F
Precip 30%
Wind: NW 3 mph
Max. Humidity: 73%
For
Sunday
they show:
High 64°F
Precip 10%
Wind: NNW 10 mph
Max. Humidity: 56%
UV Index: 4 Moderate
Sunrise: 7:18 AM CT
AccuWeather has Saturday night and Sunday on their
1 to 5 day forecast.
They predict:
Saturday Night, Jan 12
Low: 45 °F RealFeel®: 36 °F
Clear
Sunday, Jan 13
High: 58 °F RealFeel®: 54 °F
Breezy with sunshine and patchy clouds
My training is done. I ran my traditional "two miles at GMP on the track" workout last night. There was a soccer game at the High School, so I ran on the little four-lane track at the Intermediate School. Even though it's just four lanes, it's a pretty good rubberized asphalt track with all of the relay lane markings. I had a little trouble staying on pace, but my GMP miles ended up being 6:29-6:28 and I felt great throughout the workout. I might have run the warmup and cooldown a little too fast. Over the 6 miles, my average pace was 6:52 and my average heart rate was 144. I ran a short recovery run this morning before work, averaging only 120bpm heart rate at a nice easy 8:41 pace over 4 3/4 miles. Good luck everybody!
Why does Rice play Texas?