Wow! The low this morning at IAH was 71 degrees F. That's 30 degrees above the normal low at IAH and seven degrees warmer than the highest low temperature ever recorded at IAH/Hobby on a January 8th (64 degrees in 1965). A cold front is supposed to arrive this evening and drive the temperature at IAH down into the 50s before midnight, so there shouldn't be another new record. Thank goodness. I'm still a little concerned that the predictions for Sunday seem to be getting warmer.
The basic weather forecast for this week still is abnormally warm today, followed by a return to more seasonal weather. A front will move through late this afternoon or early this evening with a second front on Thursday bringing another chance of rain. Another weak front will move through on Saturday bringing a few showers and a thunderstorm or two followed by sunny skies and near normal temperatures on Sunday and more cold air arriving through the day Sunday and Monday.
Marathon Day is on the
NWS forecast:
Saturday Night: Mostly cloudy, with a low around 44.
Sunday: Mostly sunny, with a high near 58.
Marathon day is also now in the
hourly prediction.
Conditions still look good on the
8-day model forecast
with temperature starting in the 40s and a north wind [the graph is in UTC, six hours ahead of Houston].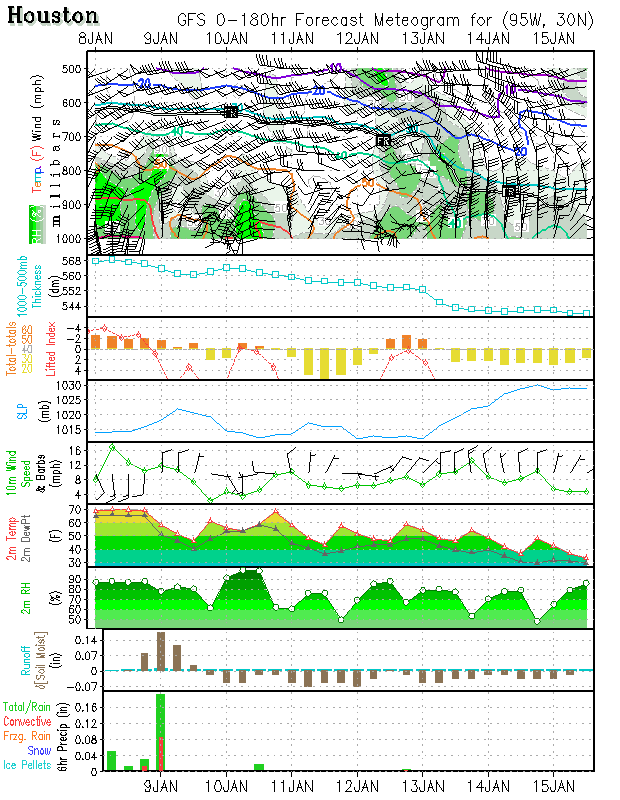 The
Weather Channel
tends to weight their long term predictions with seasonal averages. For
Saturday night
they show:
Overnight Low 43°F
Precip 10%
Wind: N 5 mph
Max. Humidity: 72%
For
Sunday
they show:
High 62°F
Precip 10%
Wind: N 10 mph
Max. Humidity: 60%
UV Index: 4 Moderate
Sunrise: 7:18 AM CT
AccuWeather has Saturday night on their
1 to 5 day forecast.
They predict:
Saturday Night, Jan 12
Low: 45 °F RealFeel®: 32 °F
Breezy with considerable cloudiness
AccuWeather has Sunday on their
6 to 10 day forecast.
They predict:
Sunday, Jan 13
High: 58 °F RealFeel®: 52 °F
Mostly sunny and breezy
Why does Rice play Texas?