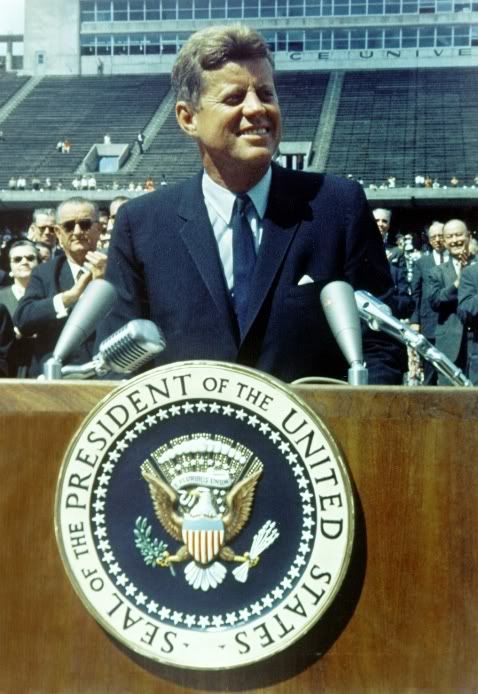 JFK at Rice Stadium announcing the goal to go to the moon.
With apologies to JFK:

But why, some say, go to the moon or run 2:50?
Why choose this as our goal?
And they may well ask why climb the highest mountain.
Why, 35 years ago, fly the Atlantic?
Why does Rice play Texas?

We choose to go to the moon. We choose to go to the moon in this decade and do the other things, not because they are easy, but because they are hard, because that goal will serve to organize and measure the best of our energies and skills, because that challenge is one that we are willing to accept, one we are unwilling to postpone, and one which we intend to win, and the others, too.

Why does Rice play Texas?
Those words became the theme of my training for this marathon. What is a tiny private school doing trying to play football against the Goliath University of Texas? Why is a big, old, bald nuke trying to run a 2:50 marathon?
But I'd run a few good races in recent years, most notably 30Ks in 2005 and 2006 that indicated 2:50 was possible. 2005's 1:57:06 30K projects out to a 2:48:40 and 2006's 1:57:57 pointed to a 2:49:54. So I started this training cycle in September
shooting for 2:50.

I always run the
HARRA Fall Race Series
while training for the Houston Marathon. The warmup races usually predict pretty well how my training is progressing and my capabilities for the marathon. This year's races did not go well:
10M 1:04:08 (~2:59:38)
1/2M 1:23:58 (~2:57:05)
25K 1:43:22 (~3:01:06)
30K 2:04:53 (~2:59:53)
The four races clearly showed I had a shot at sub-3 on a good day, but I had no business even considering going any faster. On the other hand, conditions for each of these races weren't optimal. I had a gut feeling that my training was just as strong as it had ever been. I compared my training log to previous years, and I was equaling their mileage base while running some of the more intense training runs faster. The only quantitative indicator I could point to was my
David Hays Spreadsheet
"Parrot Predictor." The "Parrot Predictor" is the time to run your fastest 26.2 miles of training each week. It's always under-predicted my marathons and it's easy to "game" the indicator by not timing your interval recoveries or running warmups and cooldowns faster than normal. But the Parrot times for most of my training weeks this year were all very strong. It was the only thing I could point to and say 2:50 isn't completely crazy.
My obsession with the weather is pretty well documented here. This year, there wasn't too much excitement with the forecasts and marathon day came out pretty much as predicted the previous week. Houston Hobby recorded:
6:53 AM 48.0 °F dewpoint 42.1 °F North winds at 16.1 mph with gusts to 20.7 mph and Overcast
7:22 AM 48.2°F, dewpoint 42.8°F NNE winds at 11.5 mph and Scattered Clouds
7:53 AM 48.0°F, dewpoint 42.1°F North winds at 10.4 mph and Scattered Clouds
8:53 AM 51.1°F, dewpoint 41.0°F North winds at 12.7 mph and Scattered Clouds
9:53 AM 55.0°F, dewpoint 42.1°F, NNE winds at 13.8 mph with gusts to 20.7 mph and Scattered Clouds
I usually prefer a little cooler temperature, but I really can't complain about upper 40s and the air was nice and dry with the 42°F dewpoint. The winds were a threat and the sun-warmed 55°F at the end of the race was getting pretty warm.
My drive up to Houston went smoothly and I had plenty of time at the GRB Convention Center before the race. I got a little spooked when I saw a large crowd gathered at the bag check area. I decided to check my bag a little early and head out to the start area and hope for a free Porta-Can for my final head stop. But when I worked my way over to the check area for my race number the line was only a few people long. I entered the corral with plenty of time but the line for the starting area Porta-Cans was way too long. With about 15 minutes before the race and well over 20 people ahead of me, I decided to leave the line and just take my place at the staart. I worked my way up to a pretty good position near the front of the red corral, I was only a couple people back from the elite barricades, and I could still feel the wind whipping into my legs. I was a little disappointed about not getting a last bathroom break, but excited with the cool temperatures while nervous about the strong north wind. After the national anthem I tossed my cotton long-sleeved shirt and was ready to race.
Trying to Pace Into the Wind, Miles 1 through 3
1) 6:46 I had good clear running almost from the very start, but I also had full exposure to the North wind. There was a large group of women just up ahead of me with two guys in matching light blue shirts. I was close enough to read from the backs of the two guys that they were pacing an
Olympic Development group
. I wished the women's OT 'B' was still 2:50 instead of 2:47. I backed off from the pace group as we started up the Elysian Viaduct. Another guy from the power plant
Iron-Nuke
PeteG
was just up ahead of me at the end of the first mile. I was surprised this mile was so slow, considering how hard I was working and how close I was to the 2:47 pace group.
2) 6:23 - 13:09 After the slow first mile, I decided to catch up with Pete. This includes a downhill but was still into the wind.
3) 6:15 - 19:24 We're now heading West and I was amazed at how fast this mile was.
Settling In, Miles 4 through 9
4) 6:29 - 25:53
5) 6:26 - 32:19
6) 6:23 - 38:43
We're already starting to pick off one or two of the women from the OTQ group
10K in 40:27
Me, Or-Shorts, and Pete at 10K
and a
closer 10K view
7) 6:35 - 45:18
8) 6:23 - 51:41 I think seeing the elite half-marathoners screaming up the opposite side of the street caused me to pick up the pace a little
9) 6:29 - 58:10 I'm feeling pretty good and running by myself, passing the occasional half-marathoner.
Forming Little Groups, Miles 10 through 19
10) 6:31 - 1:04:41 The half marathoners have turned around and the course is all of a sudden very lonely. Up about 20 yards ahead of me there's a guy without a shirt who've I've been running near for several miles and beyond him about 50 yards ahead there's a guy in orange shorts and a dark singlet.
11) 6:31 - 1:11:12 On Main Street, I caught up to the guy without the shirt and I had to point out my old dorm room in the Sid Rich. tower on the Rice campus.
12)6:33 - 1:17:45 Iron-Nuke Pete caught up with us....I was surprised to see him but he said he had been following right behind me.
13)6:28 - 1:24:13
Half marathon in 1:24:52 I'm exactly where I want to be but I'm worried about the wind when we turn north on Post Oak.
14) 6:33 - 1:30:46 This mile is also north into the wind. I entered the windy part by myself, but the guy with the orange shorts is within striking distance so I picked up the pace to catch up with him. I shamelessly drafted off him for the rest of Wesleyan. Running was much easier drafting behind him. A older woman watching from a yard said we looked like a train.
15) 6:31 - 1:37:17 There were
some inflatables on the side of the Westpark Overpass
that were getting blown down to my height by the strong cross-wind. I passed the orange-shorts guy near the Southwest Freeway and passed a couple more women from the OTQ group on the 59 feeder. They made this normally boring section go by pretty well. Something smelled pretty bad in this area...they probably thought it was me. I passed another OT group woman as I went under 610. I told her to follow me up Post Oak.
16-17) 12:58 - 1:50:15 I missed the mile 16 marker on Post Oak last year too. I ended up leading the whole way up Post Oak. Orange-shorts guy was right behind me. After all of my pre-race planning to not get caught alone running into the wind on Post Oak, there I was, lead locomotive for another train.
18) 6:33 - 1:56:49
30K in 2:01:01 The pace callers were still calling out 6:29/6:30.
19) 6:33 - 2:03:22 I ran through Tanglewood with the kid in the orange shorts. He yelled Bucky to a woman who had a U of Wisconsin Bucky the Badger sweatshirt so I figured he was a cheesehead. I looked for President and Barbara Bush so I could point them out to him, but I never saw them.
The Real Race
20) 6:39 - 2:10:01 Orange-shorts guy started opening up on me, especially after the Memorial Park railroad underpass. I know 2:50 is over, I probably have known it since San Felipe (mile 17).
21) 6:36 - 2:16:37 I'm still picking off the occasional woman from the OTQ group but orange-shorts is fading into the distance.
22) 6:39 - 2:23:16
23) 6:41 - 2:29:58 I'm really surprised to see RichF on Shepherd and I passed him near the cemetery on Allen Parkway. I think I'm still ahead of RichardP and I just passed Rich F (two of the top local masters) so I know I really can't be running that bad.
24) 6:49 - 2:36:47 I worked catching up to
two more women from the OTQ group
through the Alen Parkway underpasses.
25) 6:51 - 2:43:37 I got a great cheer from JenB that really lifted my spirits but the downtown buildings aren't coming in fast enough.
26) 6:46 - 2:50:24 JohnY screamed past me as I entered downtown. I have no idea why he was behind me. It must have been a training run. I can start to see orange-shorts guy up ahead again and I'm closing on him.
26.22) 1:18 - 2:51:41.8 I decided to go for
orange-shorts guy and pick him off
just before the finish. This is the fastest I've ever run those last 385 yards. I turned around after the finish to shake hands with orange-shorts and it turns out he was a different guy in orange shorts. Later, I saw in the results that the
orange-shorts cheesehead finished in 2:49:59;
if only......
Finish line picture taken by Michael McGuff of KTRK-13: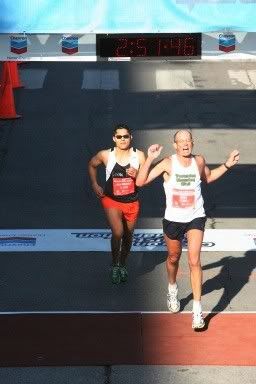 I didn't get 2:50, but I did get a nice PR and a super placing. I'm really surprised that my age grading (79.8%, 80.17% if you include my extra 7 months past 48....is that cheating?) was best of all 40-50 year old's and that I finished ahead of everyone my age or older. I might even get a 2nd place age group award in the mail someday. I've never placed in a marathon before this race.
There is a troubling aspect of my high age-grading. My 79.8% for a 2:51:42 48 year old was higher than the Masters Winner's 79.6% age grading for a 2:40:45 at 40 years old. Although I'm not a big believer in age grading, this does imply that trying to improve next year at age 49+ is going to be much more difficult. I just don't think I have much more room for training improvements.