It's a beautiful morning in South Texas. I'm volunteering at the Marathon Veterans Booth from Noon to 2PM today, so I'm not sure if I'll have time to get a run in today after I finish all of the usual Friday household chores. That's OK. I usually don't run the Friday and Saturday before the marathon.
The basic weather forecast for this week still hasn't changed much. I think the biggest variable up ahead is how that weak cold front predicted Saturday will arrive. There is a chance that west winds could develop after the front and slow the arrival of the colder air Saturday night. Temperature and humidity don't seem to be an issue, but some of the forecasts are predicting some stronger winds that could hurt a little.
The contract weather service for the nuke plant
has this forecast for Sunday:
Mostly sunny.
Wind N-NE 10-15 gust 20
Precip No precipitation forecast
Temp
Low: 46ºF High: 67ºF
This forecast is for the power plant, so I'm hoping those strong winds will be localized to the coastal areas. Their short range forecast is available on the
KUHF site
Marathon Day is on the
NWS forecast:
Saturday Night: Isolated showers before 9pm. Partly cloudy, with a low around 44. North wind between 5 and 10 mph. Chance of precipitation is 10%.
Sunday: Mostly sunny, with a high near 66. North wind between 10 and 15 mph.
Marathon day is also now in the
hourly prediction.
Conditions look better on the
8-day model forecast
and
84-hour model forecast
with temperature starting in the 40s and a lesser north-northeast wind [the graph is in UTC, six hours ahead of Houston].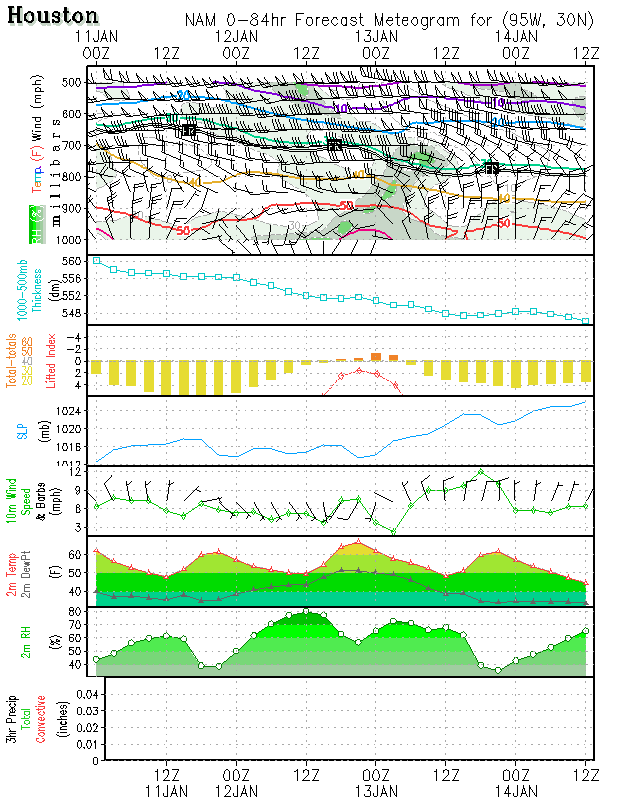 Here's the text version
of the GFS 8-day model forecast
for those who don't like these graphics. Marathon morning is also now on the
text ETA model forecast
and also on the
text NGM model forecast
Note that 1200 UTC on January 13th is 0600 Central Standard Time, one hour before the marathon starts.
The
Weather Channel
forecast for
Saturday night
shows:
Overnight Low 44°F
Precip 0%
Wind: NNW 8 mph
Max. Humidity: 67%
For
Sunday
they show:
High 66°F
Precip 10%
Wind: NNE 9 mph
Max. Humidity: 54%
UV Index: 4 Moderate
Sunrise: 7:18 AM CT
AccuWeather has Saturday night and Sunday on their
1 to 5 day forecast.
They predict:
Saturday Night, Jan 12
Low: 45 °F RealFeel®: 42 °F
Mainly clear
Sunday, Jan 13
High: 65 °F RealFeel®: 66 °F
Mostly sunny
Good luck everybody!
Why does Rice play Texas?