It's a beautiful day today in SouthEast Texas!
I've been a little surprised at how closely the forecasts from all of the various sources are agreeing. I don't want to jinx us, but it's looking good. The basic weather forecast for this week hasn't changed much. Winds will become southeasterly this afternoon, bringing in just enough moisture for a another risk of showers tomorrow as a weak front moves through. Another chance of rain is expected on Saturday but again most of the area will remain dry through the weekend.
The contract weather service for the nuke plant
has this forecast for Sunday:
Partly cloudy
Wind SE 5-10
Precip No precipitation forecast
Temp
Low: 45ºF
High: 61ºF
This is the only source I've seen that doesn't have northerlies for Sunday. But this weather service's forecasts are the most reliable I've found for this area.
Marathon Day is on the
NWS forecast:
Saturday Night: Partly cloudy, with a low around 45.
Sunday: Mostly sunny, with a high near 62.
Marathon day is also now in the
hourly prediction.
Conditions still look good on the
8-day model forecast
with temperature starting in the 40s and a north wind [the graph is in UTC, six hours ahead of Houston].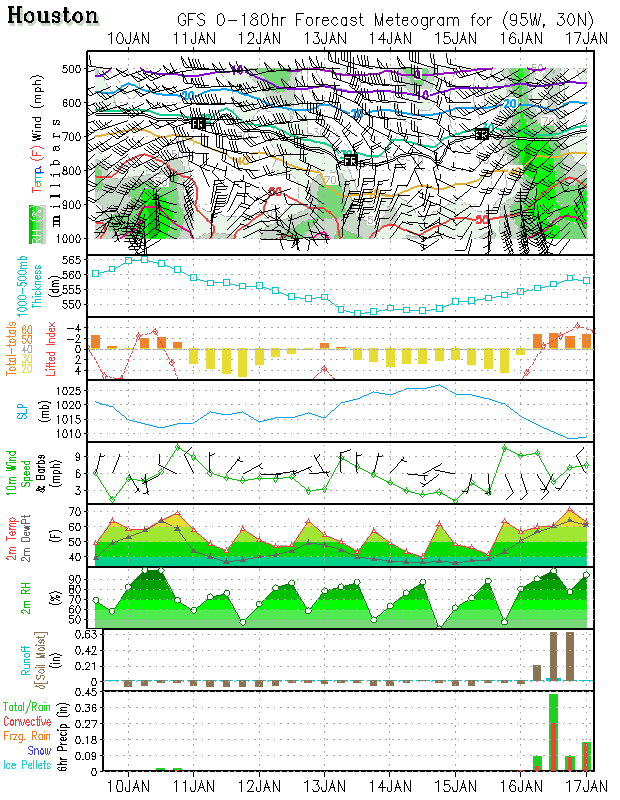 Here's the text version
of the GFS 8-day model forecast
for those who don't like these graphics.
The
Weather Channel
tends to weight their long term predictions with seasonal averages. For
Saturday night
they show:
Overnight Low 43°F
Precip 20%
Wind: N 5 mph
Max. Humidity: 72%
For
Sunday
they show:
High 64°F
Precip 10%
Wind: N 10 mph
Max. Humidity: 60%
UV Index: 4 Moderate
Sunrise: 7:18 AM CT
AccuWeather has Saturday night and Sunday on their
1 to 5 day forecast.
They predict:
Saturday Night, Jan 12
Low: 45 °F RealFeel®: 36 °F
Clear
Sunday, Jan 13
High: 58 °F RealFeel®: 54 °F
Breezy with sunshine and patchy clouds
I got to sleep in this morning until 0440! I'm running my traditional "two miles at GMP on the track" workout tonight. I might even sleep in tomorrow too. I've been thinking of doing a short recovery run Friday morning before driving to Houston for the Expo and, later, the
Tornados
pasta party. I'll probably take Saturday off completely. I haven't had a zero mileage day since September 4th.
Why does Rice play Texas?