We're still a long way out from the Houston Marathon and the long range weather forecast really isn't much more than a wild guess, but I enjoy tracking the forecast.
The
16 day model forecast
for Houston Marathon day now shows a cooler Saturday the 12th [the graph is in UTC, six hours ahead of Houston]. Marathon morning still has temperature in the 30s, a strong North wind at 20 mph, BUT the chance of freezing rain is gone....... And if you believe that's exactly what's going to happen, I know of some swampland in Matagorda County....
AccuWeather
has Saturday night and Sunday on their 15 day forecast. They predict:
Saturday Night, Jan 12
Low: 32 °F RealFeel®: 39 °F
Mainly clear
Sunday, Jan 13
High: 57 °F RealFeel®: 57 °F
Sunny and warmer
For the record, here's the climate data around Houston Marathon day:
Jan 11
Average High/Low 62/41; Record Max 81 1995; Record Low Max 30 1962; Record Low 12 1982; Record Hi Min 69 1995; Record Precip 1.77 1934
Jan 12
Average High/Low 62/41; Record Max 81 2000; Record Low Max 37 1985; Record Low 17 1962; Record Hi Min 68 2007; Record Precip 1.93 1944
Jan 13
Average High/Low 62/41; Record Max 81 1935; Record Low Max 32 1996; Record Low 20 1973; Record Hi Min 68 1965; Record Precip 1.53 1967
Jan 14
Average High/Low 62/41; Record Max 82 1971; Record Low Max 42 1964; Record Low 19 1982; Record Hi Min 63 1965; Record Precip 0.90 1946
Jan 15
Average High/Low 62/41; Record Max 79 1996; Record Low Max 42 1984; Record Low 23 1979; Record Hi Min 61 1968; Record Precip 1.78 1974
The record high minimum temperatures are the ones that worry me. I hope we don't see anything close to those warm minimums.
I'm moving the schedule around a little to run the 3x1600 tonight.
Update: I had trouble getting going tonight. I can't believe I'm saying this, but it might have been a little too cold! It was about 44 degrees F, but that's one of the coldest runs I've done this season. I don't think I was really warmed up until the second 1600. The heart rate graph seems to show that: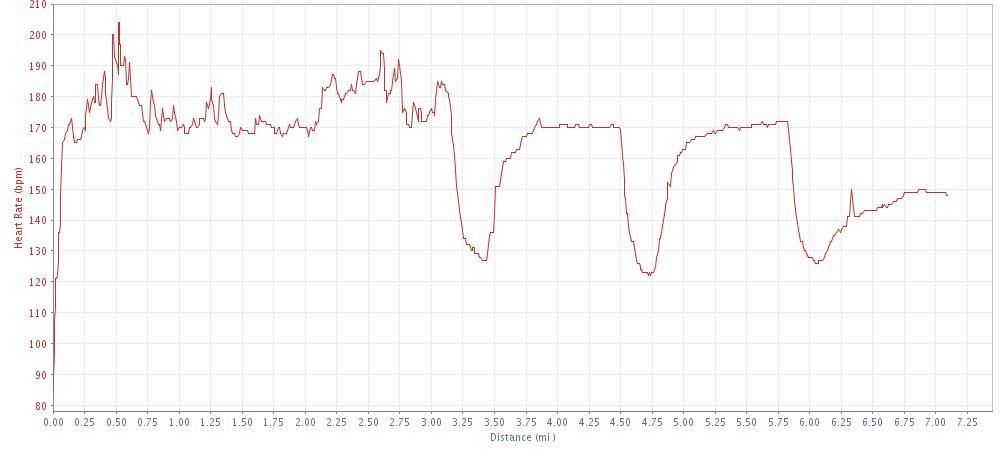 I ran a two mile warmup in 14:37, then the 1600s were 5:48, 5:48, and 5:47. I had a lot of trouble reading my watch, so I was surprised how close these were.
Not a very interesting track history tonight:
View Larger Map
Why does Rice play Texas?