It's a pretty warm morning down here on the coast. The basic forecast still hasn't changed much. Some of the predicted morning low temperatures have climbed a little and there still seems to be quite a bit of variability with the wind predictions. We'll know for sure in 24 hours.
Marathon Day is on the
NWS forecast:
Tonight: A 20 percent chance of showers and thunderstorms before midnight. Mostly cloudy, with a low around 43. North wind between 5 and 15 mph.
Sunday: Mostly sunny, with a high near 64. North wind between 10 and 15 mph.
Marathon day is also now in the
hourly prediction.
Conditions look similar on the
8-day model forecast
and
84-hour model forecast
with temperature starting in the upper 40s and a north wind [the graph is in UTC, six hours ahead of Houston].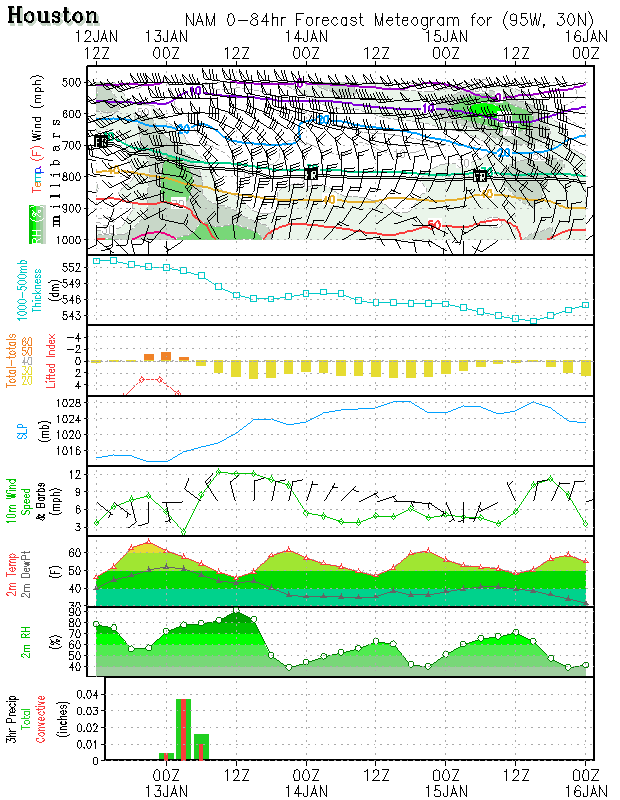 Here's the text version
of the GFS 8-day model forecast
for those who don't like these graphics. Marathon morning is also now on the
text ETA model forecast
and also on the
text NGM model forecast
Note that 1200 UTC on January 13th is 0600 Central Standard Time, one hour before the marathon starts.
The
Weather Channel
now has hourly forecast for the Marathon:
7am Mostly Clear 45°F, feels like 41°F, precip 0%, dewpoint 40°F rel hum 83%
Wind From N 7 mph
Sunrise 7:18 am
8am Mostly Sunny 47°F, feels like 43°F, precip 0%, dewpoint 41°F, rel hum 80%
Wind From N 8 mph
9am Mostly Sunny 49°F, feels like 45°F, precip 0%, dewpoint 41°F, rel hum 74%
Wind From N 9 mph
10am Mostly Sunny 52°F, feels like 49°F, precip 0%, dewpoint 41°F, rel hum 66%
Wind From N 9 mph
11am Sunny 56°F, feels like 53°F, precip 0%, dewpoint 40°F, rel hum 55%
Wind From N 10 mph
12pm Sunny 60°F, feels like 58°F, precip 0%, dewpoint 39°F, rel hum 46%
Wind From N 10 mph
AccuWeather has Saturday night and Sunday on their
1 to 5 day forecast.
They predict:
Saturday Night, Jan 12
Low: 45 °F RealFeel®: 41 °F
Mainly clear
Sunday, Jan 13
High: 65 °F RealFeel®: 63 °F
Mostly sunny
The contract weather service for the nuke plant
has this forecast for Sunday:
Mostly sunny to partly cloudy, breezy, and a bit cooler.
Wind NW-N 7-12 increasing to N-NE 10-15 gust 20 late morning
Precip No precipitation forecast
Temp
Low: 46ºF High: 64ºF
This forecast is for the power plant, so I'm hoping those strong winds will be localized to the coastal areas. Their short range forecast is available on the
KUHF site
Good luck everybody!
Why does Rice play Texas?