45¾ miles for the week
M – sleep, 54°F at 4AM
Tu – 5¾ miles, average pace 6:41 mpm with the Dow- measured two miles in 12:41 and 13:00, 69°F at 4AM with a fairly strong SSW wind (gusts to 24mph), [SB/Dow]
W – 5¾ miles, with 5x800/400 recoveries, average pace 7:18 mpm, 800s progressively faster from 2:50 to 2:41, 58°F at 7PM [B'Wood track]
Th –5¾ miles, recovery run, average pace 8:32 mpm, 67°F at 4AM [Dow/BS]
F - 4½ miles, recovery run, average pace 8:36 mpm, 51°F at 11AM, sunny and nice [FlagR-P-P-C]
Sa – 6¾ miles with a 6K Cross Country Race at an average pace 6:22 mpm, 50°F at 8AM sunny and nice, [Buffalo Bayou]
Su – 17¼ miles, at an average pace of 8:23 mpm, 77°F from 1PM, mostly cloudy with occasional sun, the dewpoint near 70°F, and a strong Gulf breeze, too warm and humid for me [SeaC/NTrail/2004/WildnsP/2004/NTrail/SeaC]
Tuesday's tempo run went well with some decent times on a pretty difficult warm and humid morning. Now that the short races of the Spring running season are here, my Tuesday Tempo run is a big part of my training. This one was
faster than all but two of last year's TTs,
so I think I'm off to a good start this year.
There was much cooler weather for Wednesday evening's 800s. I think this is the highest heart rate I've recorded: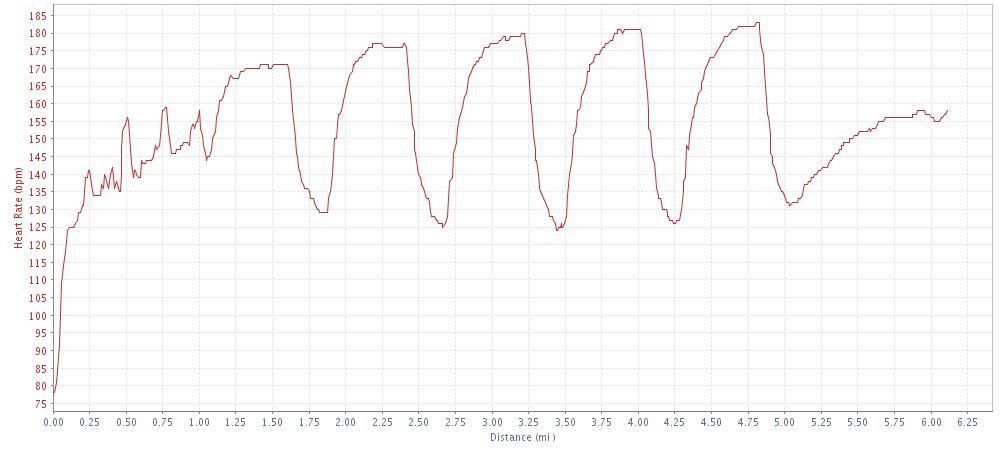 Sunday's long run was my worst in several weeks. I decided to run my normal trail through Bottomlands Park to a "Farm to Market" road to another park with a 4 mile long undeveloped trail through the woods (Wilderness Park). I hadn't run the Wilderness Park trail for several years. An old bridge was out about two miles into the trail and I had to take a diversion that ended up on some deer trails through the mud. I backtracked all the way back to the old bridge and crossed the creek but the trail had degraded quite a bit on the other side. I made it out to the river overlook but got lost on the way back. Even with the GPS in map mode it was difficult to follow the trail. During all of this time I was getting pretty dehydrated. The average 8:23 pace for this run was mostly due to the slow times in the woods going through the palmettos and vines, but I was pretty wiped out by the time I made it out to clear trails. I've been spoiled by the decent weather lately and this warm and humid weather was a killer for a long run.
Sunday's run:
View Larger Map
Here's a close-up of my diversion from the old bridge. I didn't realize I was within a few yards of the trail until after I plotted the course out on the map. But the trail was really difficult to follow here and this is the same area where I got lost on the way back from the river overlook.
View Larger Map