54¼ miles for the week of May 12th through May 18th
M – 4¾ miles, recovery run, average pace 8:36 mpm, 67°F at 4AM [Dow]
Tu – 5¼ miles, average pace 6:53 mpm, half mile warmp, then the Dow- 2 miles hard in 13:03, then ¾ mile easy, and the Dow- 2 miles return hard in 13:34, 78°F at 4AM [Ol/Dow]
W AM – 4 miles, average pace 7:46 mpm, 80°F at 4AM [Dow]
W PM – 5¼ miles, with 3 miles fairly hard (6:30, 6:27, and 6:19), overall average pace 6:46 mpm, 82°F at 7PM [B'Wood track]
Th – 5¼ miles, recovery run, average pace 8:03 mpm, 81°F at 4AM [Dow/Ol]
F - 4½ miles, easy recovery day ahead of Saturday's Beach to Bay Relay Marathon, average pace 8:43, a nice cool 70°F at 11AM [SeaC/NTrail-MBT/SeaC]
Sa – 11¾ miles, with the beach relay leg at 6:16 mpm pace, 71°F at 7AM [Corpus Christi]
We had a great binary number.
Su – 13½ miles average pace of 7:42 mpm, clear and sunny with fairly dry air, 84°F from Noon [FWRes/2x(2M-MBTrail)/FWRes]
Now that the Beach to Bay race is done and the 80°F mornings have arrived, it's time to go into Summer base-building. I'll still run a couple local races,
the Firecracker 4
and the
Clute Mosquito Chase,
but my training will just be accumulating miles and aerobic base.
The new DS Trainer-13s arrived Friday afternoon, just in time before I left for Corpus. They're a little heavier than the old Saucony Tangent-3s, my size 13 DST13s are about 12 ounces compared to 11 ounces for the Saucony shoes. I'm not sure why the laces look off center?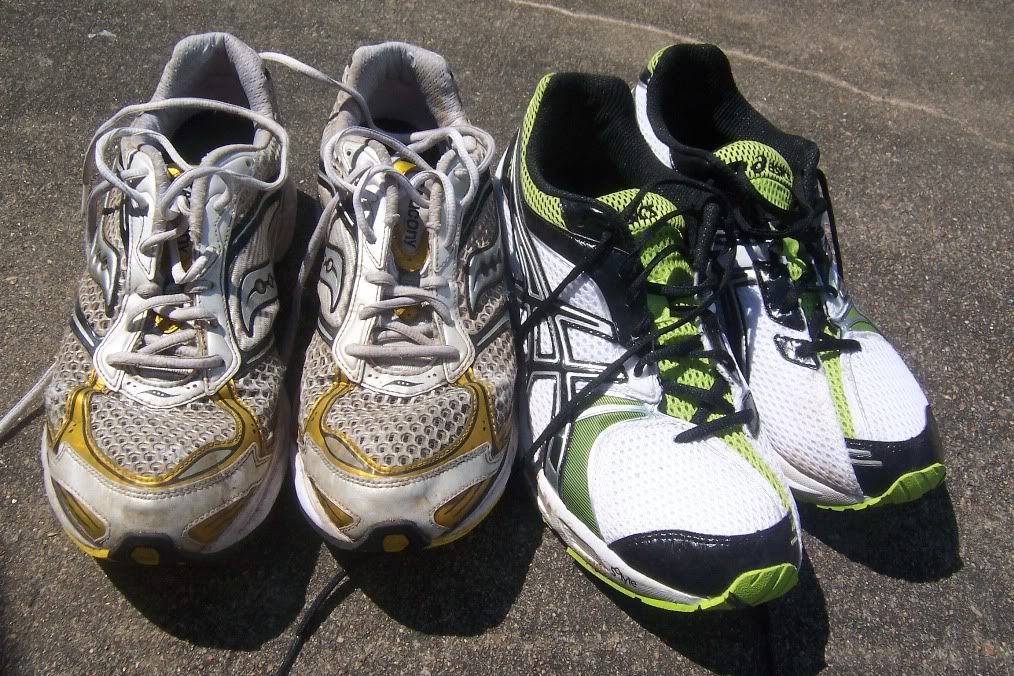 This was after Sunday's trail run, but those DS Trainers are still much too white. With the offset laces, my size 13s look like clown shoes.